Features of Plate And Frame Filter Press:
1, The Filter Plate of plate and frame Filter Press is made of cast iron, plate and frame Filter press/Oil Filter machine can resist high temperature and high pressure,long service life.
2, Main beam of plate and frame filter press is made of high quality carbon steel with sand blasting processing, not easy to out of shape, high intensity and corrosion resisting.
3, Plate and frame filter press compressing way is by hydraulic compression, simple and easy to operate, saving labor.
4, Simple in structure, good filtering effect,easy to change Filter Cloth,easy operation.
5, Service and maintenance requirements are low.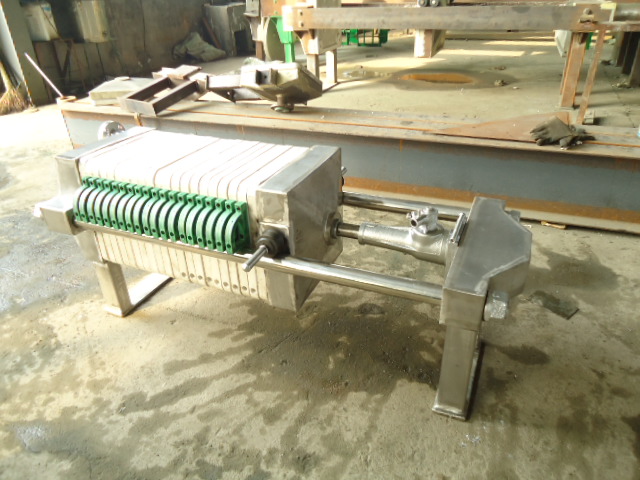 Parameter:
Model

Filter

Area

(m2)

Inner

Size

(mm)

Plate

Thickness

(mm)

Motor

Power

(kw)

Plate

Number

(Pcs)

Filter

Capacity

(L)

Working

Pressure

In

Chamber

(Mpa)

External Size

(mm)

L*W*H

Weight

(kg)

WYB-650

27

Φ650

50

3

40

367

≤2.0

3950*1150*1170

4800*1150*1170

5800*1150*1170

2500

40

60

546

2700

54

80

725

3000

WYB-800

37

Φ750

55

3

40

489

≤2.0

4100*1150*1400

5200*1150*1400

6300*1150*1400

2900

54

60

727

3200

72

80

967

3800

WYB-1000

54

Φ920

60

5.5

40

800

≤2.0

5000*1350*1350

6200*1350*1350

7400*1350*1350

8600*1350*1350

4460

80

60

1200

5140

106

80

1600

5820

132

100

2000

6500