Fully Automatic Dewatering Machine Membrane Filter Press
Membrane plates bring excellent filtration effect and unimaginable benefits.Squeezing twice after completion for filtration can improve solid content of the cake.Membrane plate can carry out "Low pressure for filtration, higher pressure for squeezing." Improving life-span and reducing energy consumption.Improved washing effect, shortened washing time, saved washing liquid and improved quality of products.
Membrane Filter Press has high squeezing pressure, and good corrosion resistance. The membrane Filter press from the material can be divided into rubber membrane filter press and PP membrane filter press. Rubber membrane filter press is more suitable for weak acid, weak alkali, organic solvents and not ideal filter material, rubber membrane tympanic membrane more fully, the use of pressure and volume is small, can greatly reduce the energy consumption. While the PP membrane used in strong acid, strong alkali and organic solvent materials, relatively more ideal performance and longer service life. In the form of the squeezing gas (air, inert gas) squeezing and liquid (water, oil) squeeze, to meet the needs of different industries. Food grade can be configured according to customer need to squeeze the components and common control can use PLC and man-machine interface. For general materials, diaphragm tympanic membrane 3-15 minutes later, can fully play the role of pressing dehydration.
We manufacture membrane Chamber Filter Press matching international standards and quality. With acid and alkali corrosion resistance, non-toxicness and high temperature resistance, good sealing performance and long service life. It has a novel construction, nice appearance, flexible movement, convenient operation and wear well.
Our membrane chamber filter press technology is gaining increased acceptance because it reduces subsequent processing or disposal costs for filter cake. In many applications the membrane filter press significantly reduces residual moisture content, making this technology attractive for new plants and for upgrading existing facilities. In both cases the careful selection of plate and membrane materials is essential to the successful performance of the process.
Chamber Membrane Filter Press Photos: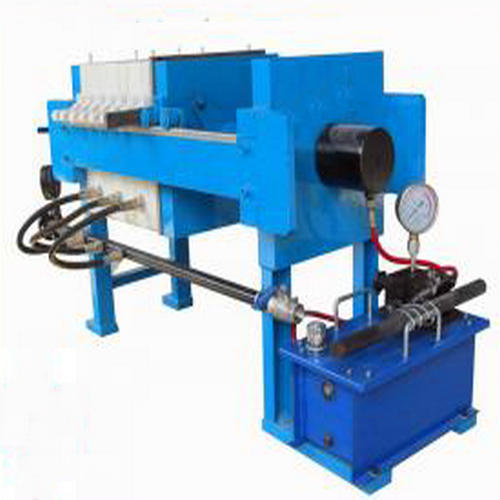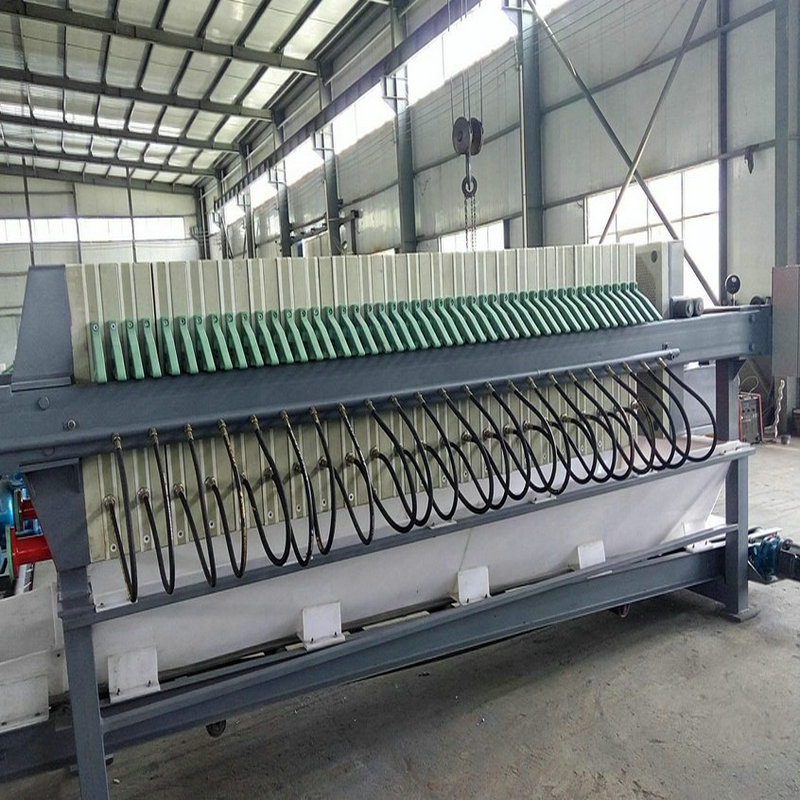 Chamber Membrane Filter Press Technical Data:
Chamber Membrane Filter Press

Model

Filter Area
(m2)

Plate Size
(mm)

Cake Thickness
(mm)

Filter Chamber Volume
(L)

Plate N0.
(pcs)

Filteration Pressure
(Mpa)

Motor Power
(kw)

XAY4/450-30U

4

500×500

30

60

9

≥0.6

2.2

XAY8/450-30U

8

121

19

XAY12/450-30U

12

182

29

XAY16/450-30U

16

243

39

XAY15/630-30U

15

700×700

226

18

XAY20/630-30U

20

297

24

XAY30/630-30U

30

452

37

XAY40/630-30U

40

595

49

XAY30/800-30U

30

800×800

460

28

XAY40/800-30U

40

595

38

XAY50/800-30U

50

749

47

XAY60/800-30U

60

902

57

XAY70/800-30U

70

1056

67

XAY30/870-30U

30

870×870

460

23

XAY40/870-30U

40

595

30

XAY50/870-30U

50

748

38

XAY60/870-30U

60

902

46

XAY70/870-30U

70

1056

54

XAY80/870-30U

80

1210

62
Features of Membrane Filter Press:
1, it adopts low pressure filtration, high pressure pressing, greatly shortening the whole filtration cycle.
2, it uses TPE elastomer, the maximum filtering pressure can reach 25 mpa, so that the moisture content is reduced greatly, and save the cost of drying, improve the yield.
3, save power consumption, operation late in filtration, small flow, high pressure.
4, the membrane pressing function, in a very short time to complete this process, save power consumption.
5, improve degree of mud biscuits, reduce rate of mud cake, diaphragm squeeze on static filter cake after the secondary crushing, the structure of the filter cake rearrangement, density increase, thus replacement part, improved the dryness.
6, strong corrosion resistance, basic is applicable to all the solid-liquid separation.
7, PLC and man-machine interface control can be configured.
8, membrane Filter Plate has anti-fatigue, anti-aging, sealed performance is good wait for a characteristic.
Contact:

Looking for ideal Dewatering Machine Filter Press Manufacturer & supplier ? We have a wide selection at great prices to help you get creative. All the Fully
Automatic Membrane Filter Press
are quality guaranteed. We are China Origin Factory of Automatic Dewatering Filter Press. If you have any question, please feel free to contact us.
Product Categories : Chemical Industry Filter Press > Chemical Industry Chamber Membrane Filter Press